Home / Spartan Day of Service-Fenner Nature Center
Spartan Day of Service-Fenner Nature Center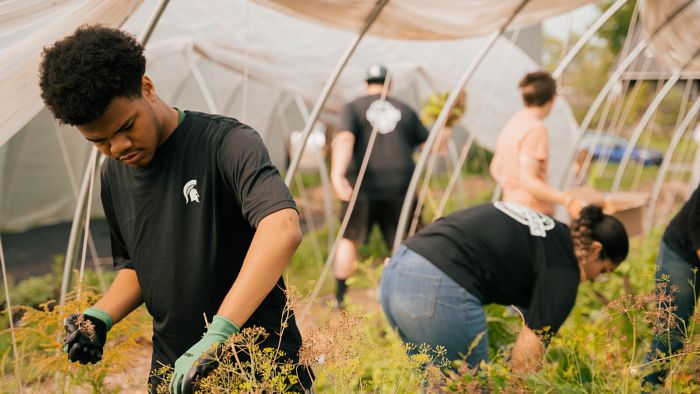 Student

In-Person

Community Development

Seasonal Clean-Up
45 of 45 volunteers have pledged their time
This project has reached its capacity.
---
Project Description
At Fenner Nature Center, volunteers will be tasked with helping prepare for the annual Apple Butter Festival! Preparing for the festival will include site set up of our indoor spaces, trail map folding, program folding, and other tasks as needed. General beautification, including trail mulching, will take place throughout the center.
IMPORTANT INFORMATION
Check-In
All volunteers must register/check-in at the Spartan Days of Service kick-off event held in the Business College Complex, Room N130.
Transportation
All transportation will depart from the Business College Complex, and you must check in to find which bus is designated for your project. Upon completion of your service project, you will be dropped off at the Business College. Parking is available at the College of Law ramp, directly across from the Business College.
Meals & T-Shirts
During check-in and the program a light breakfast will be available to all volunteers. Prior to departure, volunteers can select a box lunch, and will receive a Spartan Days of Service t-shirt. Vegan and gluten free options will be available.

Schedule for the Day
8:00a.m. – Registration Opens
9:00 a.m. – Welcome & Program
9:15 a.m. - Lunches & T-Shirts
9:40 a.m. – Load Busses
10:00 a.m. – Arrive at locations
2:00 p.m. – Volunteer opportunities conclude | Return to campus
Community Partner - Fenner Nature Center
About Fenner Nature Center
This project features the Fenner Conservancy, a nonprofit organization and the managing body for Fenner Nature Center. Fenner works to connect people to nature in the heart of Lansing through conservation, education, and stewardship. Their Apple Butter Festival celebrates the heritage of Michigan and serves as a fundraiser to support their work.
Website: https://mynaturecenter.org

Project Date
Oct. 14, 2023
Project Locations and Shifts
MSU Business College Complex


632 Bogue Street




Room N130




East Lansing

,

MI

48824
8 a.m. - 2 p.m.
(0 spots available)
Project Coordinator
This project has reached its capacity.
---