Home / Pattengill Biotechnical Magnet School
Pattengill Biotechnical Magnet School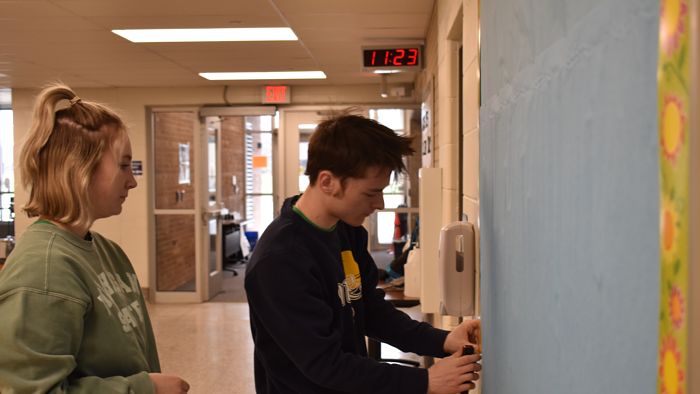 Student

In-Person

Education

Painting/General Maintenance
4 of 20 volunteers have pledged their time
---
Project Description
Volunteers will be assisting with materials organization, indoor cleaning, sorting supplies, assembling student packets, making copies and other teacher identifed needs.
IMPORTANT INFORMATION
Check-In
All volunteers must register/check-in at the Spartan Days of Service kick-off event held in the Business College Complex, Room N130.
Transportation
All transportation will depart from the Business College Complex, and you must check in to find which bus is designated for your project. Upon completion of your service project, you will be dropped off at the Business College. Parking is available at the College of Law ramp, directly across from the Business College.
Meals & T-Shirts
During check-in and the program a light breakfast will be available to all volunteers. Prior to departure, volunteers can select a box lunch, and will receive a Spartan Days of Service t-shirt. Vegan and gluten free options will be available.

Schedule for the Day
8:00 a.m. – Registration Opens
9:00 a.m. – Welcome & Program
9:15 a.m. - Lunches & T-Shirts
9:40 a.m. – Load Busses
10:00 a.m. – Arrive at locations
2:00 p.m. – Volunteer opportunities conclude | Return to campus
Community Partner - Pattengill Biotechnical Magnet School
Pattengill Biotechnical Magnet School Accommodations
Must be 17 years or older
About Pattengill Biotechnical Magnet School
The Pattengill Biotechnical vision is to provide a safe and collaborative environment that values the diversity of all learners, and empowers them to become responsible global citizens.
We are extremely excited to have your child attending school with us this year! Please know that we take your commitment to the Lansing School District and to Pattengill Biotechnical Magnet School very seriously, so if there is ever anything we can do for you, our doors are always open.
Engaging students at a young age in Science, Technology, Engineering and Math builds a foundation for inquisitiveness and innovation for future success in today's swiftly changing
world. At Pattengill Biotechnical Magnet School, students will gain the skills and knowledge necessary to become the thinkers and problem solvers of the future.
Project Date
April 22, 2023
Project Locations and Shifts
MSU Business College Complex


632 Bogue Street




Room N130




East Lansing

,

MI

48824
8 a.m. - 2 p.m.
(16 spots available)
Project Coordinator
---