Home / Equine Center for Learning
Equine Center for Learning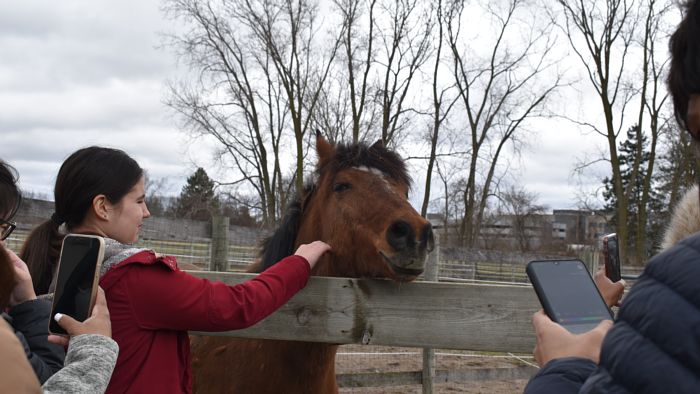 Student

In-Person

Animals/Pets

Seasonal Clean-Up
0 of 45 volunteers have pledged their time
---
Project Description
Volunteers will be responsible for projects all around the facility including painting the indoor arena, painting fences, helping with outdoor clean up including moving brush, or helping to trim up a few small trees. If time permits, volunteers may also help with cleaning up a storage room and rearranging learning spaces.
IMPORTANT INFORMATION
Check-In
All volunteers must register/check-in at the Spartan Days of Service kick-off event held in the Business College Complex, Room N130.
Transportation
All transportation will depart from the Business College Complex, and you must check in to find which bus is designated for your project. Upon completion of your service project, you will be dropped off at the Business College. Parking is available at the College of Law ramp, directly across from the Business College.
Meals & T-Shirts
During check-in and the program a light breakfast will be available to all volunteers. Prior to departure, volunteers can select a box lunch, and will receive a Spartan Days of Service t-shirt. Vegan and gluten free options will be available.

Schedule for the Day
8:00 a.m. – Registration Opens
9:00 a.m. – Welcome & Program
9:15 a.m. - Lunches & T-Shirts
9:40 a.m. – Load Busses
10:00 a.m. – Arrive at locations
2:00 p.m. – Volunteer opportunities conclude | Return to campus
Community Partner - Equine Center for Learning
Equine Center for Learning Accommodations
Must be 17 years or older
About Equine Center for Learning
The Equine Center for Learning is nestled just behind the Beekman Center in Lansing, Michigan. Even though we are located in Lansing, the Equine Center for Learning is an oasis to help de-stress and learn about horses and how incredible the bond between a horse and a human can be.

We proudly serve people of all abilities, offering riding lessons to anyone five years of age or older. Our instructors work with individuals with skills ranging from beginner to advanced and can also provide therapeutic lessons! Equine assisted services helps students of all abilities. Riding is a unique and enjoyable way to improve muscle tone, balance, fine and gross motor skills, responsibility, and confidence.
Website: https://www.lansingschools.net/departments/equine-center-for-learning/

Project Date
April 22, 2023
Project Locations and Shifts
MSU Business College Complex


632 Bogue Street




Room N130




East Lansing

,

MI

48824
8 a.m. - 2 p.m.
(45 spots available)
Project Coordinator
---