Home / January Ann Arbor Spartans Serving Food Gatherers
January Ann Arbor Spartans Serving Food Gatherers
Hosted by Ann Arbor Spartans.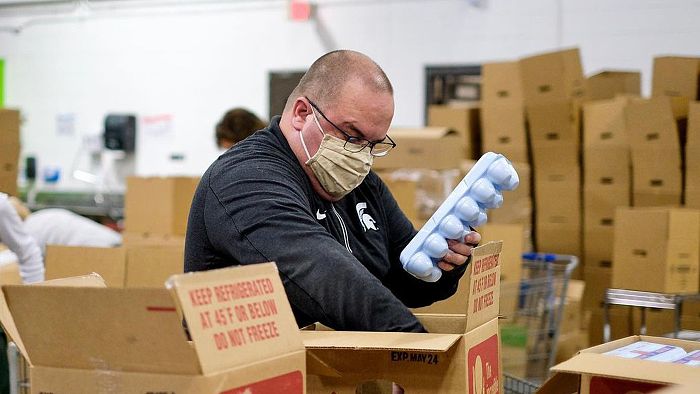 Alumni Club/Affinity Group

In-Person

Food Service/Distribution
0 of 25 volunteers have pledged their time
Volunteer registration has not opened yet.
Registration is scheduled to open on 1/1/24.
---
Project Description
Food Gatherers rescues several tons of food daily that volunteers help us process, inspect and sort. Since we depend on food donations from the community, we aren't always sure what we'll be getting from one day to the next. We receive various, last minute items, and though we often improvise, we have adequate work areas and will provide all necessary training. Volunteers generally help us sort food such as produce, stock our pantry with canned goods, repackage bulk items, help us salvage/wash damaged products such as a case of juice boxes with one that is leaking, and work with us to keep the warehouse and trucks clean and food-safe.
Community Partner - Food Gatherers
Food Gatherers Accommodations
Children under 8 years must be accompanied by an adult
Please wear comfortable clothing, no sleeveless shirts or tank tops, and sensible non-slip shoes with closed toes (no sandals). It is a good idea to bring an extra layer, such as a sweatshirt – You may be working in our Green Room (which is temperature controlled and held at 50F) and the warehouse can be a bit chilly in the winter. * Some jobs require a hat/hairnet. We've got hairnets, but feel free to bring your own hat (baseball cap, knit hat, bandana). Also, please keep in mind that this is a food warehouse, and things may get a bit messy.
About Food Gatherers
Food Gatherers exists to alleviate hunger and eliminate its causes in our community.
We rescue local food and leverage state and national food resources for hunger relief. We lead a network of hunger relief providers and engage the public in the fight against hunger. We create and sustain innovative new food programs in response to emerging needs. We recognize that hunger will not be solved through the provision of food alone, so we advocate for policies and system changes to create an equitable food system.
Website: https://www.foodgatherers.org/

Project Date
Jan. 27, 2024
Project Locations and Shifts
Food Gatherers


1 Carrot Way




Ann Arbor

,

MI

48105
9 - 11 a.m.
(25 spots available)
Project Coordinator
Volunteer registration has not opened yet.
Registration is scheduled to open on 1/1/24.
---