Home / Everglades Outpost Wildlife Rescue and Refuge Assistance
Everglades Outpost Wildlife Rescue and Refuge Assistance
Hosted by South Florida Spartans.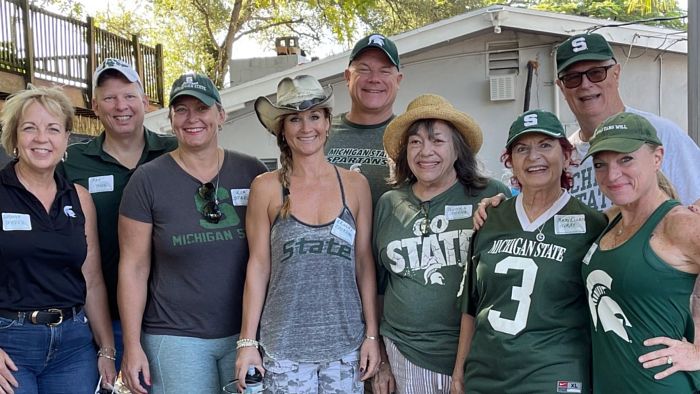 Alumni Club/Affinity Group

In-Person

Environment

Seasonal Clean-Up
8 of 20 volunteers have pledged their time
---
Project Description
Florida panthers, tigers, camel, zebra, bear, coyote, monkeys, exotic birds, alligators, crocodiles, kinkajous and more!
Everglades Outpost is a not-for-profit 501c(3) facility established to assist indigenous and exotic animals. This is an outdoor activity. We will be providing a variety of needed tasks: provide animal enrichment activities, improve animal habitats, and others.
Wear appropriate clothing, CLOSED toe shoes, work gloves, hat, and sunscreen! There is a release form to be signed at the facility. We will also tour the facility and interact with some of the residents.
In case you were wondering, this is a football bye-week activity!
Community Partner - Everglades Outpost Wildlife Rescue
Everglades Outpost Wildlife Rescue Accommodations
Must be 16 years or older
Children under 18 years must be accompanied by an adult
Wear appropriate clothing, CLOSED toe shoes, work gloves, hat, sunscreen, and insect repellent.
About Everglades Outpost Wildlife Rescue
Most of the animals residing at the Everglades Outpost have been confiscated from illegal or abusive situations by Wildlife, Fish and Game Officers, or have been abandoned by their human owners.
Our rehabilitation facility provides medical care and treatment to the sick and injured. Whenever possible, the animal is released to its natural habitat. The animals that cannot be returned to the wild are placed in suitable homes, or remain here under our care.
We are a non-profit 501c(3) educational organization, so we rely on you to come down to experience this place and help us out with donations. Without your help, this place wouldn't exist. We are all here at the Everglades Outpost 365 days a year. All the staff are volunteers. They are here for the animals, and because they want to be here. We are always looking for more volunteers.
Beyond serving as custodians of our natural environment, we also want to serve the South Florida Community. This is a great place for families, kids, school groups. We provide educational opportunities, including field experience trips, for school groups and civic groups. We also do shows about the Florida wildlife, including alligators and non-venomous snakes.
Website: www.evergladesoutpost.org

Project Date
Oct. 7, 2023
Project Locations and Shifts
Everglades Outpost


35601 SW 192 Avenue




Homestead

,

FL

33034
9 a.m. - 2 p.m.
(12 spots available)
Project Coordinator
---