Home / Spartan Day of Service-Turner-Dodge
Spartan Day of Service-Turner-Dodge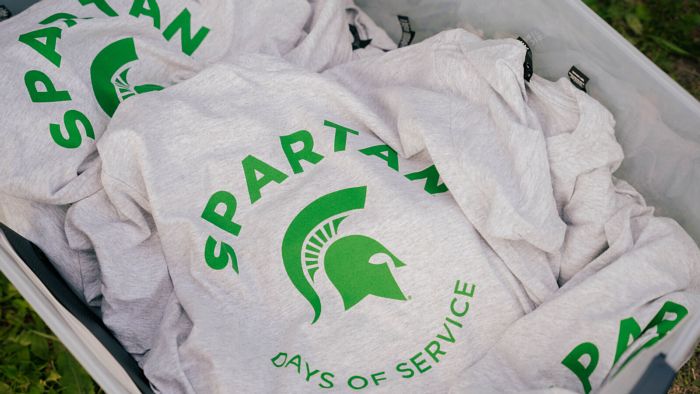 Student

In-Person

Seasonal Clean-Up
15 of 15 volunteers have pledged their time
This project has reached its capacity.
---
Project Description
Volunteers at the Turner-Dodge house will assist in seasonal clean up around the mansion. This will include removing brush from the park area surrounding the house, raking, and other possible yard chores. In the case of rain, volunteers will assist with cleaning responsibilities inside the mansion.
IMPORTANT INFORMATION
Check-In
All volunteers must register/check-in at the Spartan Days of Service kick-off event held in the Business College Complex, Room N130.
Transportation
All transportation will depart from the Business College Complex, and you must check in to find which bus is designated for your project. Upon completion of your service project, you will be dropped off at the Business College. Parking is available at the College of Law ramp, directly across from the Business College.
Meals & T-Shirts
During check-in and the program a light breakfast will be available to all volunteers. Prior to departure, volunteers can select a box lunch, and will receive a Spartan Days of Service t-shirt. Vegan and gluten free options will be available.

Schedule for the Day
8:00 a.m. – Registration Opens
9:00 a.m. – Welcome & Program
9:15 a.m. - Lunches & T-Shirts
9:40 a.m. – Load Busses
10:00 a.m. – Arrive at locations
2:00 p.m. – Volunteer opportunities conclude | Return to campus
Community Partner - Turner-Dodge House & Heritage Center
About Turner-Dodge House & Heritage Center
The Turner-Dodge mansion is a National Historic Registered Place that was built in 1858 by James and Marion Turner, who helped establish the city of Lansing. The home was recently restored to reflect the style of the 19th century and is now maintained by the City of Lansing Parks and Recreation Department as a Cultural Heritage Center.
Project Date
Oct. 14, 2023
Project Locations and Shifts
MSU Business College Complex


632 Bogue Street




Room N130




East Lansing

,

MI

48824
8 a.m. - 2 p.m.
(0 spots available)
Project Coordinator
This project has reached its capacity.
---