Home / Support Adaptive Surfing Athletes in the Rockaways
Support Adaptive Surfing Athletes in the Rockaways
Hosted by Greater NYC Spartans.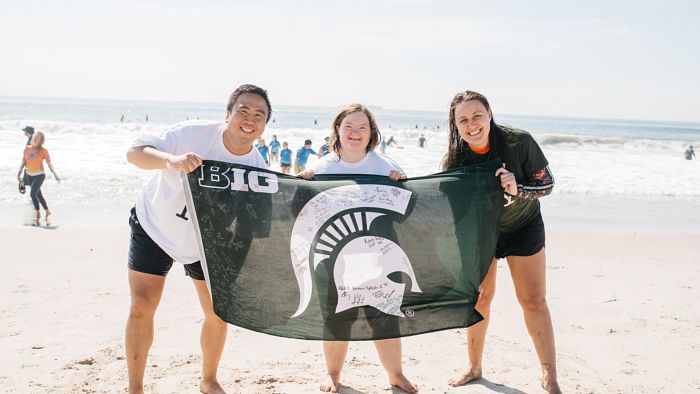 Alumni Club/Affinity Group

In-Person

Sports/Athletic
0 of 50 volunteers have pledged their time
---
Project Description
Join us as we support Life Rolls On "Get On Board" Tour, an adaptive surfing program for individuals of all ages. Hundreds of volunteers, people of all ages with disabilities, and entire families come together for an epic day in the ocean. Whether you've surfed with us for years, are a beginner, or just want to meet people and hang out for the day…YOU BELONG HERE. Everyone is welcome.
Spartans of all ages are welcome to come and enjoy a community beach day as we cheer on the athletes.
There are also hands-on volunteer roles available for those 18+. Separate registration with Life Rolls On required (https://liferollson.org/newyork). Volunteer roles include registration, hospitality, on land athlete assistance, and in water coaching. Please note that volunteer check-in is at 8 a.m.
Community Partner - Life Rolls On
Life Rolls On Accommodations
Must be 18 years or older
In water volunteers should wear a bathing suit.
About Life Rolls On
Founded by 2X World Adaptive Surfing Champion and 6X US National Adaptive Surfing Champion Jesse Billauer, Life Rolls On is dedicated to improving the quality of life for people living with various disabilities. Believing that adaptive surfing and skating could inspire infinite possibilities beyond any disability. Life Rolls On began as a splash into the unknown on September 11, 2001; achieved 501c3 nonprofit status in 2002; and now touches the lives of hundreds of thousands.
Website: https://liferollson.org/newyork

Project Date
June 24, 2023
Project Locations and Shifts
Skudin Surf Rockaway


Beach and 67th St




Rockaway Beach

,

NY

11693
8 a.m. - 4 p.m.
(50 spots available)
Project Coordinator
---